Dostupné RSS kanály
Kanál posledních článků publikovaných na hlavní stránce, obvykle jednou denně.
Kanál pro krátké novinky - příspěvky se objevují podle uvážení autorů.
Kanál pro redakční blog - příspěvky se objevují podle uvážení autorů.
Kanál posledních příspěvků ve všech diskuzích. Pokud si jej přidáte do čtečky, můžete tak sledovat diskuze na celém webu.

http://www.linuxexpres.cz/rss/diskuze/cislo

Kanál sledující jedno vlákno diskuze určené číslem. Odkaz na tento kanál najdete na konci každého diskuzního vlákna. Pokud si jej přidáte do čtečky, můžete tak velmi snadno sledovat pouze vybrané diskuze.

http://www.linuxexpres.cz/rss/diskuze/autor/cislo

Kanál sledující příspěvky u článků konkrétního autora. Je nutné číslem určit autora - to lze zjistit z odkazu na jeho profil (je v pravé části okna, v URL profilu nebo také pod titulkem článku), například http://www.linuxexpres.cz/userinfo.php?uid=15. Autor číslo 15 je Jiří Vrba, příspěvky pod jeho články tedy můžete sledovat na RSS kanálu http://www.linuxexpres.cz/rss/diskuze/autor/15. Vhodné zejména pro samotné autory nebo jejich fanoušky. :-)
Další informace o RSS naleznete v našem Lexikonu - stejně jako vysvětlení dalších pojmů.
Jak přidat RSS kanál?
Jak přidat RSS kanál do Firefoxu
Pokud chcete přidat RSS portálu LinuxEXPRES do integrované čtečky ve Firefoxu, tak je to velice snadné. Jistě vidíte po zadání adresy http://www.linuxexpres.cz vedle této adresy také oranžovou ikonku.
Ikona v adresním řádku Firefoxu
Poté, co na ni kliknete levým tlačítkem, se dostanete na stránku, kde si můžete tento RSS zdroj přidat do několika čteček, včetně té, která je přímo ve Firefoxu (ostatní jsou webové). Stačí z rozbalovacího seznamu vybrat "Aktuální záložky" a kliknout na tlačítko Odebírat.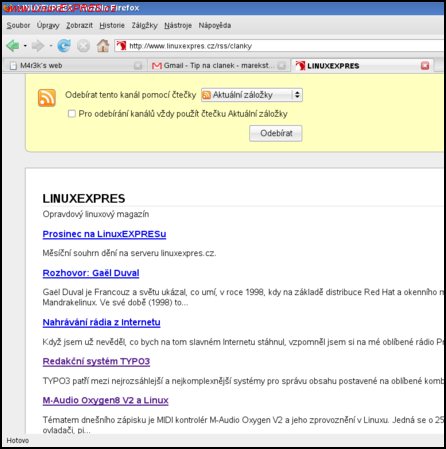 Přihlášení k odběru kanálu
Po stisknutí tlačítka Odebírat se zobrazí následující okno: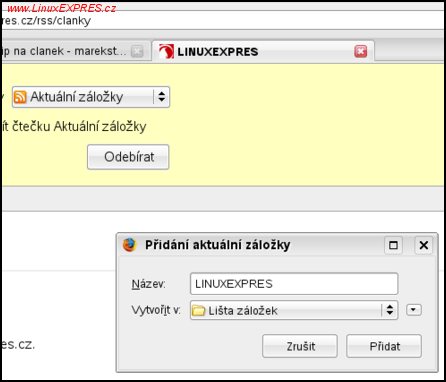 Zařazení kanálu do záložek
To je vše! Aktuální články z LinuxEXPRESu pak můžete najít v nabídce Záložky:
RSS novinky v záložkách
Jak přidat RSS kanál do Internet Exploreru 7
Od verze 7 má Internet Explorer také integrovanou čtečku RSS zdrojů. Pokud chcete přidat kanál LinuxEXPRESu, pak musíte nalézt ikonku, která je podobná té z Firefoxu, kliknout na ni levým tlačítkem.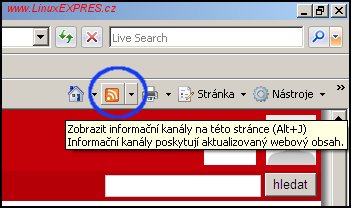 Ikona RSS v MSIE
Na stránce s přehledem obsahu RSS poté klikněte na text "Přihlásit k odběru tohoto kanálu", který vidíte v červeném rámečku.
Přihlásit k odběru kanálu
Po jeho stisknutí se před vámi objeví dialogové okno, jež vám umožní nastavit si dodatečné informace k tomuto zdroji nebo třeba změnit název.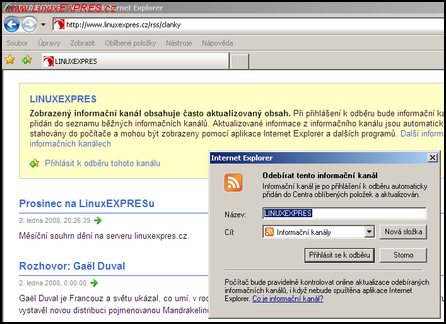 Zapsání kanálu
Jakmile stisknete tlačítko Přihlásit se k odběru, je hotovo a RSS zdroj je k dispozici. Zobrazení načtených RSS kanálů poté provedete přes nabídku oblíbených položek, kde stačí místo "Oblíbené položky" kliknout na "Informační kanály".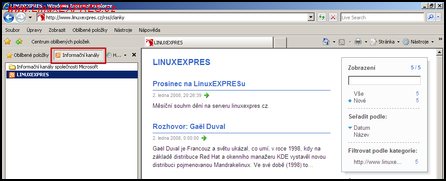 Informační kanály mezi záložkami
Jak přidat RSS kanál do Thunderbirdu
Pro každý kanál musíte tento postup zopakovat - stejně jako byste přidávali RSS kanály z několika webů.
Na adresu RSS proudu klikněte pravým tlačítkem a zkopírujte si ji do schránky (Kopírovat adresu odkazu). Poté spusťte Thunderbird. Teď záleží na tom, jestli už nějaké RSS kanály v Thunderbirdu odebíráte. Pokud ne, je třeba vytvořit pro RSS kanály účet.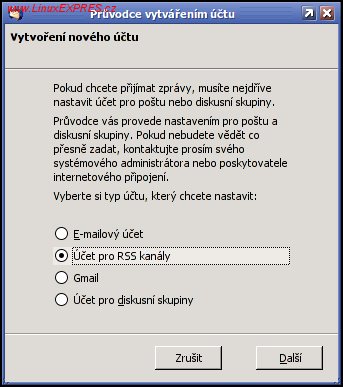 Vytvoření RSS účtu v Thunderbirdu
Pojmenování RSS účtu
Poté klikněte na položku Spravovat odebírání, otevře se okno, ve kterém lze přidat další kanály.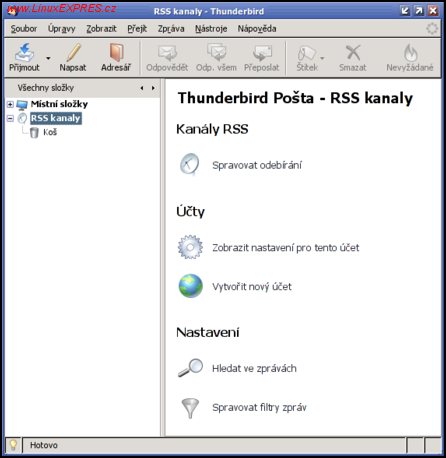 Správa účtů - e-mailových, ale také RSS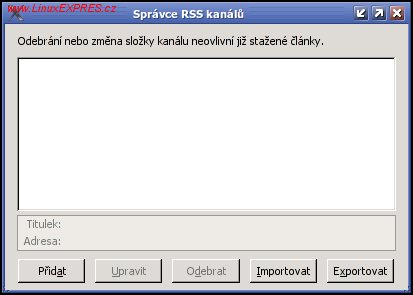 Správce RSS kanálů
Tlačítkem Přidat pak tento RSS kanál přidáte. Pravým tlačítkem máte možnost vložit do vstupní řádky adresu, již jste si dříve zkopírovali do schránky.
Přidání nového kanálu
Můžete si vybrat, zda chcete zobrazovat plnou stránku (včetně obrázků, flash animací), nebo jen její začátek - nadpis, úvodník.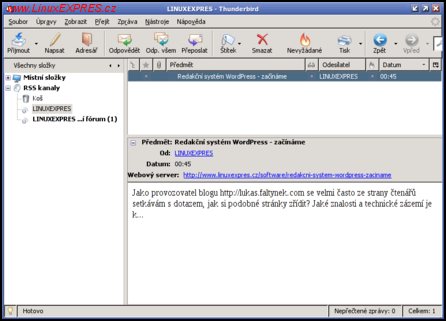 Výsledné příspěvky v RSS kanálu
Jak přidat RSS do čtečky Google Reader
Pokud si chcete přidat RSS LinuxEXPRESu do čtečky Google Reader nebo na stránku iGoogle, použijte následující tlačítka. Nabízíme vám RSS pro články a RSS pro diskuze.
Přidat články do Google Reader
Přidat diskuze do Google Reader
Přidat obojí na iGoogle jako gadget