Neměl jsem takové školní štěstí jako současná generace. Mým prvním převratným počítačovým prostředkem (zdali se tomu tak dá říci) bylo logaritmické pravítko. Na počítač jsem si sáhl poprvé, když mi bylo padesát, a to ještě v DOSu v novém zaměstnání, kdy mi můj nadřízený řekl, abych si napsal životopis. Po dvou letech se mi počítač začal tak líbit, že jsem si ho pořídil domů. Do roku 2004 jsem počítač vyměnil 3x a používal snad všechny Windowsy, které byly vydány od 95 až po XP.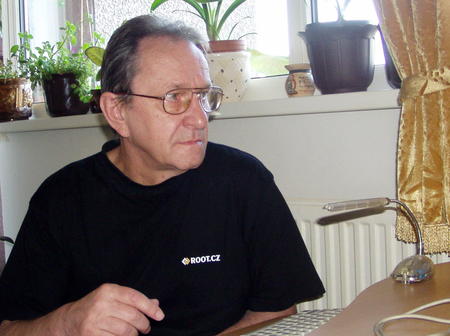 Zlom nastal, když jsem se seznámil s člověkem, který mi na počítač vedle Windows nainstaloval tehdy SUSE Linux 9.1. Zpočátku jsem ho využíval hlavně pro připojení k internetu, kde byla největší výhoda, že jsem nemusel stále aktualizovat antivirové programy, které počítač ve Windowsech docela zpomalovaly. Díky internetu jsem dostal možnost seznámit se s mnoha distribucemi Linuxu, které jsem si stáhl a taky vyzkoušel, jak běhají. Mezi hlavními byly Danix, Slax, Ubuntu, Fedora, zmíněné Suse a Mandriva.
U posledně jmenované Mandrivy jsem zůstal. V roce 2004 jsem si zakoupil první distribuci Mandrakelinux 10.1 (krabici) a dle návodu v knize pana Bíbra jsem jej sám nainstaloval. Samotná instalace mě docela dostala. Občas pro známé instaluji operační systém nebo jej opravuji a když je to ve Windowsech a na starším stroji, párám se s tím i několik hodin. U instalace Linuxu cca 30 minut, a to včetně připojených zařízení, jako je tiskárna, skener, ale i televizní karta a další, a to nemluvím o programech, jako jsou office, kreslicí programy a mnoho dalších. U Linuxu prostě 30 minut, jeden restart a můžu pracovat.
Od Mandrakelinux 10.1 mám zakoupeny všechny distribuce do 2008 i s knihami od pana Bíbra.
Proč zrovna Mandriva?
Od letošního dubna, kdy vyšla distribuce Mandriva 2008.1, jsem ze zajímavosti opět stáhl poslední live CD s distribucemi SAM 2008 RC 1, Slax 6.0.0 CZ, Ubuntu, OpenSuse 10.3, Fedora 9 a PCLinuxOS. Při porovnání přívětivosti a zejména množství češtiny se mi jako nejlepší jeví právě Mandriva.
Na počítači dělám hlavně webové stránky v HTML a PHP, což mi Linux umožňuje např. v Quantě Plus, Kwrite, ale i pod Wine v PSPadu, na který jsem si zvykl ve Widlích.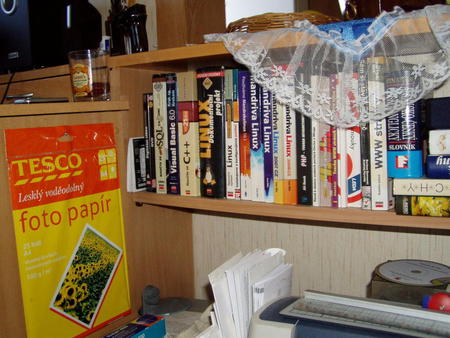 Linux jsem prosadil i v šipkovém klubu, kam chodím na pivko. Dal jsem dohromady dva staré počítače a nainstaloval Mandrivu. Oblíbenou hrou se v klubu stala hra Frozen Bubble. Zde plánujeme po získání větších prostorů internetovou kavárnu jen na Linuxu, alespoň se třemi různými distribucemi cca na deseti počítačích. O spuštění budu informovat na svých stránkách jaroslavuher.cz. Kontakt na mě je mandrivak@gmail

com.