Od vtedy sa veľa vecí zmenilo. Softwarový trh nás skorej tlačil k monopolu Microsoft, systémy Unix/Linux boli pre bežného človeka prakticky nedostupné, pokiaľ sa nejednalo o nasadenie v segmente serverových riešení.
Produkty od spoločnosti Microsoft, ktoré sa usadili na desktope, začínali DOSom, ktorého jednoduchosť a stabilita mi u dnešným MS systémoch dosť chýba.
K takým prvým graficky upraveným systému MS by sa dal zaradiť Win 3.11, neskoršie 95, 98, ME cez 2000 až po XP, ktoré, a nemôžem si akosi pomôcť, sa mi zdajú byť jedinou voľbou, pokiaľ sa MS systémov týka. Vistou MS dosť odradil.
Pri práci zo systémami MS však človek narazí na veľa zaujímavostí, dokonca takých, ktoré by sa dali nazvať komickými, jedná sa o vyskakovanie chybových hlášok či nečakané pády, alebo aj inak veľmi známe blue screen.
K Linuxu ma teda priviedla nespokojnosť s MS a pravidelné sledovanie dostupných informácií na internete. Samozrejme nesmiem zabudnúť na ten najväčší dôvod môjho prechodu ku Linuxu a tím je jednoduchosť, stabilita, flexibilita, bezpečnosť a otvorenosť či už samotného systému tak i softwarového vybaveniu.
Z výberu uvediem distra, ktoré som všetky prešiel a veľa vecí sa od každej naučil, tie samozrejme vrelo odporúčam: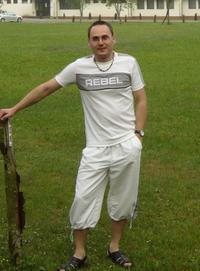 Mandriva, Fedora, Debian, Ubuntu, Kubuntu, Xubuntu, Fluxbuntu, Mint, openSUSE, Dreamlinux, PCLinuxOS, Gentoo, Zenwalk, Free BSD, OpenBSD, DesktopBSD, OpenSolaris...všetky vo verziách i386, AMD64.
Pozn. red. Systémy BSD a Solaris nejsou distribucemi Linuxu, jedná se o podobné, nicméně v určité míře odlišné unixové systémy.
Odlišnosti sú podstatne veľké u každého distra či už by sme ich hľadali u softwarového vybavenia, konfigurácie až po grafické prostredia. K tím najznámejším by som zaradil GNOME, KDE, E17.
Prostredie, ktoré preferujem, je GNOME, vyznačuje sa svojou prehľadnosťou a stabilitou. Troška inak tomu je u KDE, ešte 3.5.x je rozumným riešením, na 4 sa pozerám troška skepticky, aj keď sa jedná o grafický skvost.
Čo sa týka SW v Linuxe, myslím, že doba pokročila tak, že každý si tu nájde to svoje, či už sa bavíme o kancelárskom balíku OpenOffice.org, poštovnom klientovi Evolution, komunikačnom Pidgin, skvelom prehliadači webových stránok Firefox, pre grafikov GIMP až po kompletnú podporu multimédií Audio/video, ktorá ku desktopu bezpochyby patrí a stala sa prakticky nutnosťou. Ak to mám zhrnúť – určite Linux vrelo doporučujem všetkým pre jeho kvalitu a otvorenosť.
Pre tích, čo nevedia, čo ich čaká, sú zaujímavé live CD verzie, kde si Linux ľahko a jednoducho vyskúšate bez nutnosti inštalácie, ktorú samozrejme neskor máte k dispozícii priamo na ploche.
Touto cestou sa chcem ešte poďakovať všetkým, ktorý podporujú tvorbu Linuxu či už pasívne alebo aktívne.