S GNU/Linuxom som sa prvýkrát stretol na gymnáziu, na hodinách informatiky. Konkrétne to bola distribúcia Debianu s GNOME. Debian na mňa však nezapôsobil najlepšie. Grafické prostredie nefungovalo tak, ako malo. Na 17'' monitore sme pracovali v rozlíšení 800x600 pixelov. Aplikácie boli preložené do slovenčiny iba čiastočne, vlastne väčšina aplikácii bežala v angličtine. OpenOffice.org bol vo verzii 1.1 a veľké množstvo funkcií bolo diametrálne odlišných od MS Office. Nehovoriac už ani o tom, že OpenOffice.org pravidelne zamŕzaval. GNU/Linux ma v tejto dobe veľmi neoslovil, povedal som si, že pre desktopy je to sľubný projekt, možno, že sa o pár rokov priblíži Windows.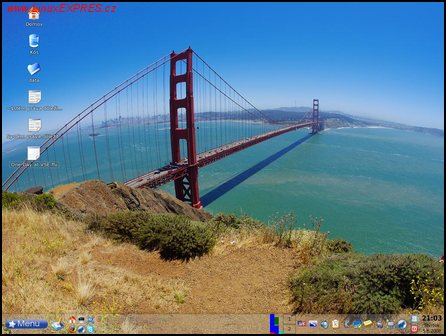 Cez letné prázdniny v roku 2007 som sa začal znovu zaujímať o GNU/Linux. V tej dobe som už niečo počul o Ubuntu a pamätám si, že ma fascinovala veta z ich stránok "Ubuntu je a vždy bude zadarmo". Preto som sa rozhodol, že si to Ubuntu vyskúšam. Avšak internetové pripojenie, ktoré sme v tom čase doma mali, nebolo dostačujúce na stiahnutie ISO súboru Ubuntu.
Neskôr som sa však dozvedel o Puppy Linuxe, distribúcii, ktorá sa dokáže spustiť aj z CD, beží aj na starých počítačoch a má veľkosť cez 100 MB. Toto bolo pre mňa odrazovým mostíkom do sveta GNU/Linuxu.
Už od prvého nabootovania sa mi ten systém zapáčil. Neovplýval síce perfektným grafickým prostredím, aké ponúkal Windows XP s modrými panelmi, ale bolo v ňom všetko, čo je na prácu s internetom potrebné. Nemal problémy ani prehrávať DVD či DivX alebo nejakú hudbu. A čo sa mi na tom najviac páčilo, bol fakt, že celý systém bežal bez pevného disku a mal iba niečo cez 100 MB. Po pár pokusoch sa mi podarilo Puppy aj nainštalovať na HDD a dozvedel som sa niečo aj o linuxovom zavádzači GRUBe.
Stále ma však fascinovalo Ubuntu a jeho systém. O pár dní neskôr mi známy požičal inštalačné média Ubuntu 5.10, ktoré už však v tej dobe nebolo podporované (Júl 2007). Po úspešnej inštalácii som však zistil, že niečo ako exe inštalačné súbory pre GNU/Linux nie sú. Vôbec som netušil ako do systému nainštalovať nový Firefox či OpenOffice.org. Po pár prihláseniach som Ubuntu partíciu zmazal a ďalej používal Windows XP. Na Ubuntu som však nezanevrel a požiadal o zaslanie CD zadarmo prostredníctvom služby Ship It.
Ubuntu 7.04 Feisty Fawn na seba nenechalo dlho čakať a približne o 3 týždne mi prišlo domov. Feisty Fawn bol úplne iný. Bol perfektný. Po týždni som začal naplno využívať iba Ubuntu. Po 7 dňoch používania som napísal o tomto systéme niečo viac aj na svoj blog.
Problémy so starým Debianom boli minulosťou, GNOME sa zmenilo, OpenOffice.org prešiel do verzie 2 a kompatibilita s MS Office sa výrazne zlepšila a ďalej zlepšuje.
Stal sa zo mňa linuxový fanatik, ktorý si všade naokolo lepil nálepky Ubuntu a stále rozprával o GNU/Linuxe. Zaregistroval som na česko-slovenskom Ubuntu fórea vďaka veľkej pomoci celej Ubuntu komunity som vyriešil problémy, ktoré sa objavili.
Po pár mesiacoch som sa začal nielen pýtať, ale aj pomáhať rovnakým Ubuntu začiatočníkom, akým som bol aj ja. Nechcem ale hovoriť, že sa zo mňa stal pokročilý užívateľ GNU/Linuxu, stále som začiatočníkom.
Ubuntu som používal až do verzie 8.04 Hardy Heron. Za tento čas som si veľmi obľúbil aj terminál a začal som ho používať najmä na inštaláciu softvéru z repozitárov cez debianovský mocný príkaz apt-get :-).
Posledné Ubuntu 8.04 pre mňa však znamenalo sklamanie, po pár týždnoch od vydania bolo ešte stále menej stabilné ako jeho predchodcovia. Rozhodol som skúsiť francúzsku distribúciu Mandriva Linux, tentokrát s grafickým prostredím KDE. Mandriva ma už po pár dňoch veľmi oslovila a zostal som s ňou až do dnes.
Mandrivu používam na surfovanie po internete, písanie prác do školy, vytváranie prezentácii, počúvanie hudby či skenovanie dokumentov. Slúži mi veľmi dobre a som veľmi rád, že tu Mandriva a GNU/Linux je. Netreba však zabúdať ani na komunitu GNU/Linuxu a, samozrejme ani Vojtechovi Trefnému, administrátorovi Ubuntu fóra, a pánovi Ivanovi Bíbrovi, ktorým patrí moja veľká vďaka.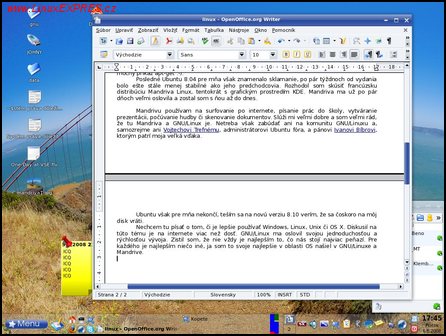 Ubuntu však pre mňa nekončí, teším sa na novú verziu 8.10 verím, že sa čoskoro na môj disk vráti.
Nechcem tu písať o tom, či je lepšie používať Windows, Linux, Unix či OS X. Diskusií na túto tému je na internete viac než dosť. GNU/Linux ma oslovil svojou jednoduchosťou a rýchlosťou vývoja. Zistil som, že nie vždy je najlepším to, čo nás stojí najviac peňazí. Pre každého je najlepším niečo iné, ja som to svoje najlepšie v oblasti OS našiel v GNU/Linuxe a Mandrive.