Sedí smutně správce sítě u přihlašovací obrazovky na serveru a brečí. Samozřejmě se ho ptají, co se mu stalo a on na to říká: "Ale, včera jsem se opil a pak jsem šel měnit hesla... ". Tak aby se vám nestalo to samé, že nějaké to heslo zapomenete, nebo vás lenost donutí používat jedno nebo dvě hesla na spoustě počítačů, případně používat jednoduchá hesla slovníkového typu a tajná hesla typu 123, tak právě pro vás tu je správce hesel KeePass.
KeePassX je linuxová varianta programu KeePass, v základu jsou ale programy "stejné".
Program KeePassX
Aby to nebylo pro začátek tak jednoduché, můžete si program stáhnout ze stránek programu, nebo můžete zkusit repozitáře své distribuce, kde zřejmě najdete variantu správce hesel v podobě programu KeePassX (program vyžaduje knihovny Qt - KDE). No a když jsem říkal, že to nebude jednoduché, tak musím dodat, že je program multiplatformní, a tak vám poběží také ve Windows (k dispozici je klasická a profesionální edice) a dále na mobilních telefonech (díky Javě), na PalmOS, platformě Windows Mobile no a také třeba na mobilech vybavených Androidem a dalších zařízeních.
Profesionální edice pro Windows se od té klasické liší více či méně pouze v tom, že používá rozhraní .NET Framework či Mono a má tak o něco více funkcí. Obě verze jsou samozřejmě zdarma - program je open source.
Hesla jsou přitom uložena v jednom souboru, který je chráněn šifrou AES (Rijndael 256 bitů) nebo volitelně Twofish (256 bitů). Díky tomu budete mít hesla stále při sobě ať se děje co chce, stačí jen synchronizovat soubor s hesly.
Po spuštění programu je potřeba vytvořit počáteční databázi s hesly. To se provede z nabídky Soubor | Nová databáze. Tím se spustí průvodce vytvořením databáze, který se vlastně zeptá pouze na jediné, zda chcete databázi chránit pomocí hesla nebo souboru s klíčem. Ten si samozřejmě můžete nechat vygenerovat a pak uložit na bezpečné místo. Osobně mám raději heslo, odteď to bude to poslední heslo, které si budete muset pamatovat.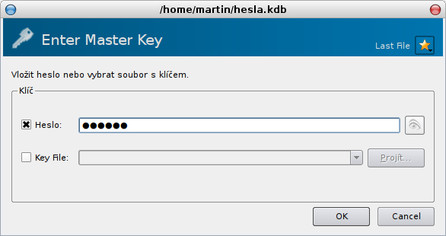 Zadání hlavního klíče databáze hesel
Na jméno databáze s hesly budete dotázáni při ukončení práce s programem, nebo později pokud vynutíte uložení databáze na disk. Tím vznikne jeden soubor s příponou .kdb. Hlavně nezapomeňte zadané heslo nebo neztraťte klíč, jinak budou údaje v něm uložené navždy ztraceny.
Pracujeme se programem
Pro přehlednější rozdělení hesel doporučuji používat skupiny. V hlavní nabídce Groups (Skupiny) proto zvolte Přidat novou skupinu. Pod skupinami si pak můžete představit třeba skupinu hesel pro web, hesla pro banku, hesla používaná na zámku u kufru nebo hesla PIN SIM karet, atd.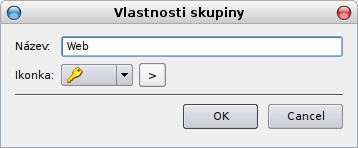 Zadání skupiny hesel
Vlastní hesla se pak zadávají z nabídky Entries (Položky) - Add new entry (Přidat novou položku) nebo z panelu nástrojů pod hlavní nabídkou programu.
Zadání konkrétní položky
Parametry položky jsou víceméně jasné. Kromě uživatelského jména a hesla můžete zadat také URL adresu, kde heslo používáte nebo datum vypršení hesla. Hesla, která mají vypršené datum platnosti a bylo by tak dobře je změnit si dál můžete zobrazit v nabídce Doplňky | Show expired entries. Hesla se standardně zobrazují v podobě teček, ale kliknutím na tlačítko vpravo u hesla (symbol lidského oka) si heslo můžete zobrazit. To ale většinou není ani nutné, pokud chcete heslo někde použít, stačí ručně nebo pomocí programu otevřít požadovanou adresu a uživatelské jméno či heslo překopírovat z hlavní nabídky Entries | Copy Username/Password to clipboard nebo rychleji použitím příslušných tlačítek pod hlavní nabídkou programu.
Rychlé zkopírování uživatelského jména nebo hesla můžete provést také pomocí zkratkových kláves, slouží k tomu [Ctrl+b] resp. [Ctrl+c]. Program také disponuje možností automatického vyplnění jména a hesla na stránce, tu najdete v nabídce Etnries | Perform AutoType, osobně mi ale zrovna nefungovala, nebo jsem jí nepochopil. ;-)
Bezpečná hesla
Jedny z nejbezpečnějších hesel jsou ta, která neznáme. Další podmínkou je, aby heslo bylo dostatečně silné a o to se postará KeePassX za vás. Samozřejmostí je možnost generování hesel. Ty můžete vytvářet přímo při úpravě/přidání konkrétní položky nebo samostatně spuštěním Generátoru hesel z nabídky Doplňky | Password Generator. Možnosti jsou poměrně široké, pojďme se na ně proto podívat.
První karta generátoru hesel (Random) vytváří náhodná hesla, ty mají standardně 25 znaků a obsahují všechno možné.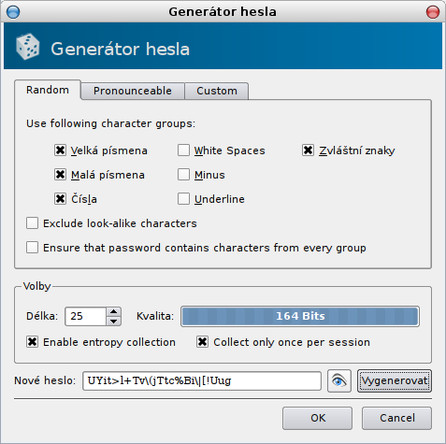 Zcela náhodná hesla generátoru hesel
Druhá karta Pronounceable se snaží vytvářet hesla, která by bylo možno (při troše fantazie) nějak vyslovit.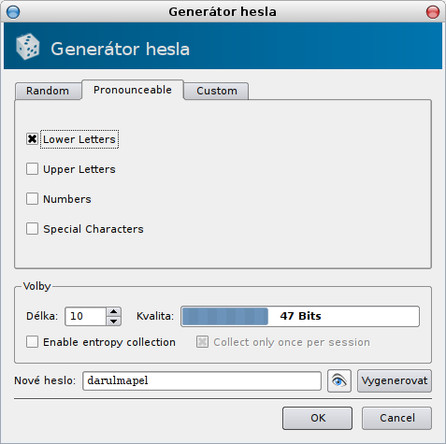 Generování vyslovitelných hesel
Generátor hesel vám zajistí vytvoření opravdu silných hesel. Díky KeePassX si je navíc nebudete muset vůbec pamatovat, co chtít víc?
Konečně poslední karta generátoru hesel vám umožní vytvoření hesla z libovolné sady znaků.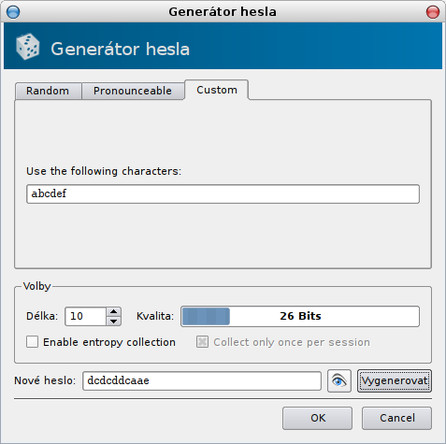 Generování hesel z předem dané sady znaků
Něco navíc
Program je vytvořen s ohledem na jednoduchost, to mimo jiné dokládá i možnost prohledávání hesel zadáním klíčového slova, automatické otevření naposledy používané databáze hesel při spuštění programu (a zadání toho správného hesla) a také provádění automatických záloh změněných hesel - představte si třeba situaci, kdy si změníte heslo v databázi, ale už zapomenete provést jeho změnu i na webu, atp. KeePass a jeho klony prostě myslí téměř na vše, no a na zbytek budete muset dál myslet vy, KeePassX vám ale práci jednoznačně ulehčí.